VD16-E 16-Channel Radio Controller
With this product, you earn
719
loyalty points.
VD16-E is a highly integrated radio system which has datalink,videolink and rc built inside, and the standard range of datalink and rc is 10-20km, the videolink-5km.
VD16-E is a highly integrated radio system which has datalink, videolink and rc built inside with standard range up to 3km on the ground and 5km in the air.

The VD16-E supports ethernet port video transmission, so connect EH314 4k camera with the VD16-E receiver can realize real-time video transmission. Connect the remote controller end to the PC, then the video can be directly displayed on PC. Connect the mobile phone and remote controller with a usb cable, you can also see the video by your mobile phone, just need to download a software on your phone. It is very convenient. Connect the VD16-E receiver and ethernet version gimbal with a sbus module, can realize camera and gimbal control, like camera zoom, REC, PIC, gimbal pitch/yaw etc.
The VD16-E has the Bluetooth function, which can send the data to your cellphone. So you can see all parameters or setting on you cellphone. It also has a high brightness colorful LCD touch screen. The VD16-E Radio controller has a built-in lipo-battery, it can be connected through a USB cable for charging, and the endurance time is about 10 hours.
Specifications:
RC/Data Transmission Distance: 10km
Video Transmission Distance: 5km(in the air)
Working Frequency: 2.4 GHz
Channel: 16 Channel
Bluetooth Pairing Password: 1234
Admin Password: 8888

Controller:
Video Output Interface: USB, Ethernet Port
Datalink Port(connect mobile phone, PC): Bluetooth, Micro USB
Size: 194.5x172.5x114mm
Weight: 942g
Battery: 15000 mAh Lipo 1S 3.7V
Charging: Micro USB 5V 2A

Receiver:
Signal Output: 16-channel S.Bus, 9-channel PPM/PWM
FC Connecting Port: UART
Size: 61x60x21mm
Weight: 82g
Antenna Gain: 5dBi
Working Voltage: 15V-50V
Working Temperature: -10℃-55℃
Camera with Searchlight:
Video Resolution: Max. 720p@25fps
Camera angle: FOV 150°
Searchlight Power: 8W
Size: 106x25x41mm
Weight: 108g
Luminous flux: 1W/120-140lm
LED Searching Angle: 120°

Your Purchase Includes:
1x Foxtech VD16-E 16-Channel Radio Controller
1x VD16-E Receiver
1x Camera with Searchlight
1x Receiver Antenna
1x UART Cable
1x Ethernet Cable
1x USB Cable
1x 2.4G Feeder
1x 5.8G Feeder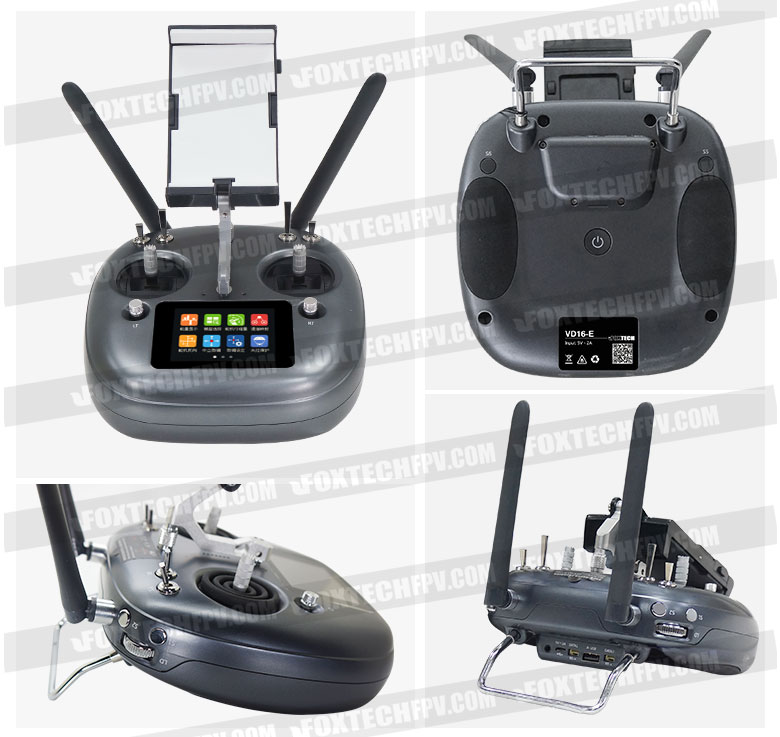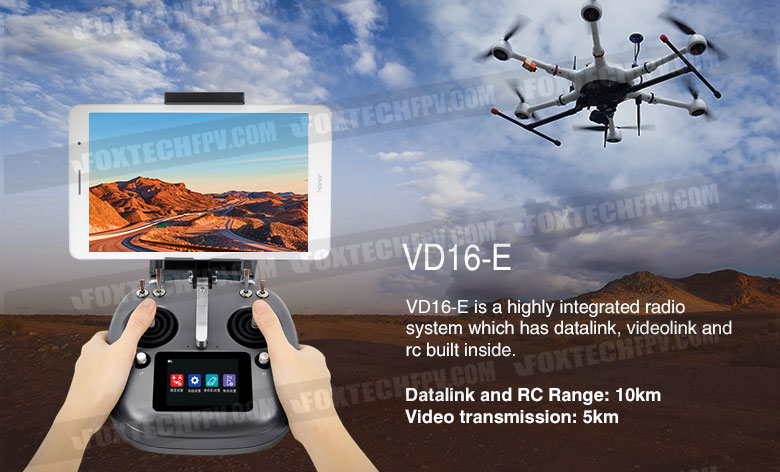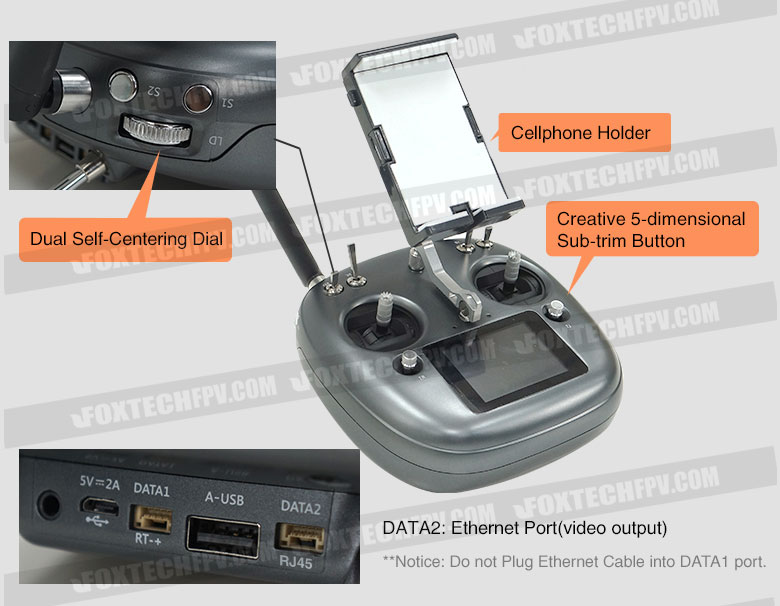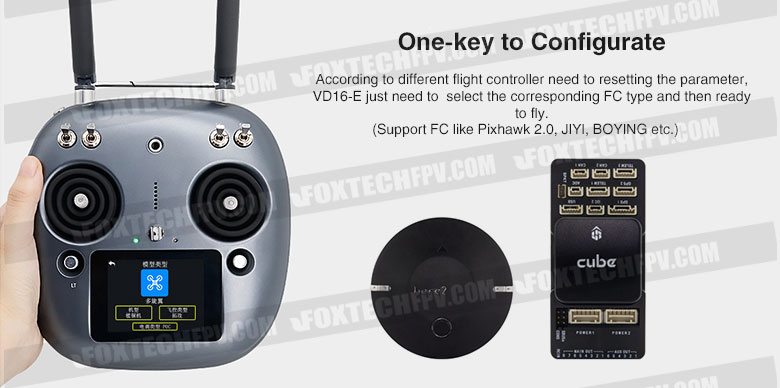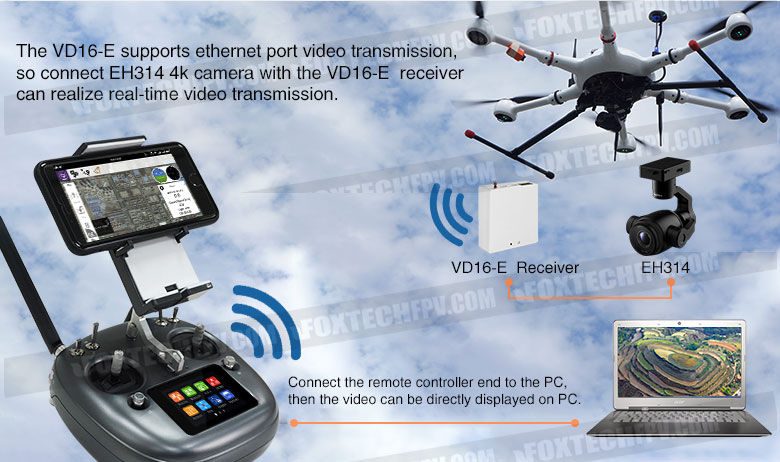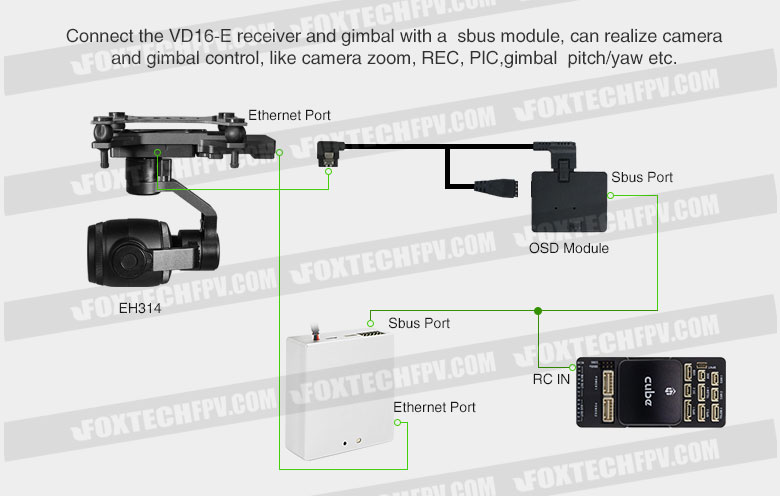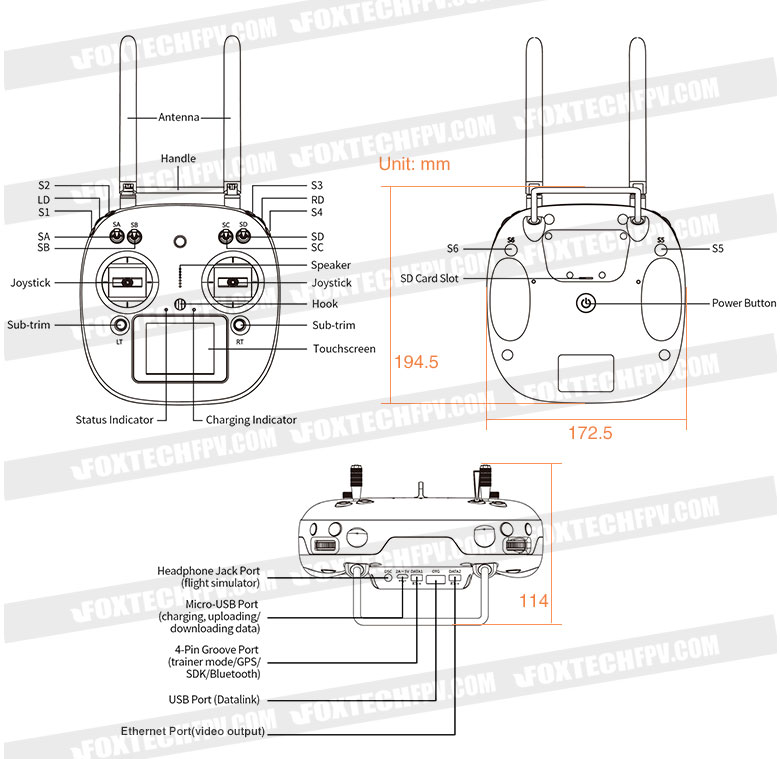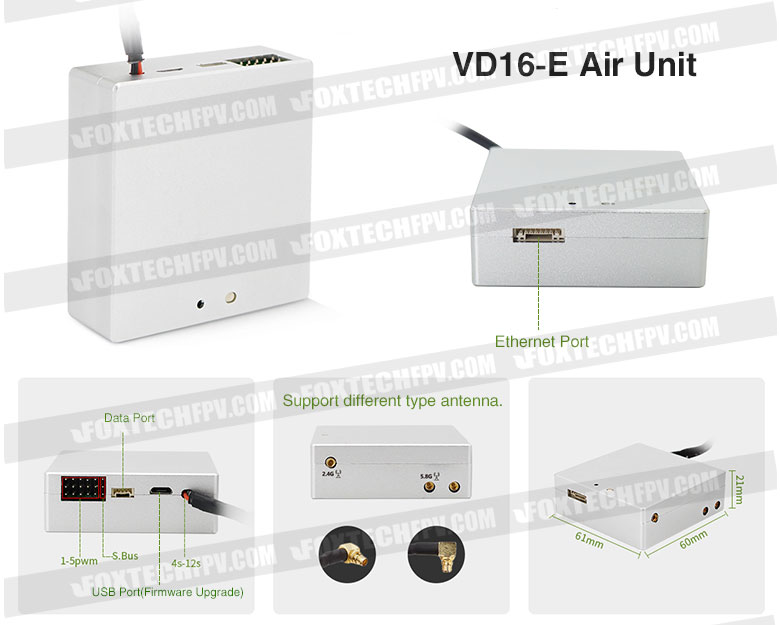 Professional & Just-in-time
Compare Products
You have no items to compare.