EH314 MINI 4K Zoom Camera with 3-axis Gimbal
With this product, you earn
1399
loyalty points.
EH314 4K 3.5X Optical 14X Zoom Camera with 3-axis Gimbal for UAV inspection, target tracking, monitoring and other fields.
EH314 is a 4K HD camera with 3-axis gimbal, adopts a 1/2.3 CMOS sensor, has 12 mega pixels, with 3.5x optical zoom lens and support 4X digital zoom, supports 4K video record, EH314 supports Max.128G SD card.
EH314 features small size, compact structure and light weight, only 275g. So it can be equipped on most of the drones. EH314 features high stability, the camera vibration accuracy is within 0.008 °. The high-precision 3-axis gimbal also has a target tracking function. It also supports finger point-touch zooming function, so you can double-click the target to zoom in, it also supports GPS information recording, the flight control GPS information can be written into photo or video (must work with the designated fc or developed by the customer, or using a specialized OSD module).
EH314 MINI 4K camera and 3-axis gimbal is controlled by network signal through ground control software on PC, can realize camera and gimbal control like zoom, REC, PIC, pitch/yaw, and video transmission function. EH314 adopts quick-detach design, it is interchangeable with the EH2000.

EH314 MINI 4K 3.5X optical zoom camera with 3-axis can be widely used in inspection, target tracking, monitoring and other fields.
Specification:
Working Voltage: 12V-25V
Power: 6W
Weight: gimbal 275g, gateway damping plate 100g
Size: 96x79x120mm
Interface Type: Ethernet port
Display and control method: Windows PC or Android cellphone, tablet
Gimbal parameter:
Mounting Type: detachable
Range of control angle: pitch: +70° to -110°, yaw: ±300°
Structure design angle: pitch: +70° to -110°, yaw: ±300°, roll: +90°to ﹣50°
Max. Control Speed: pitch:120º/s; yaw 180º/s

Camera Parameter:
Sensor: CMOS:1/2.3″; total pixels 12.71 mega; max. Resolution 4152*3062
Lens: 3.5x optical zoom lens F 3.85~13.4mm
Image storage format: JPEG
Video storage format: MP4
Working mode: REC;PIC
Exposure mode: Auto/manually
Video output resolution: 1080P 50fps, 1080P 25fps, 720P 25fps
Minimum illumination: color:0.5Lux/F2.4
Electronic shutter: 1/3~1/30000 s
Digital zoom: 4X
Support memory card type: Micro SD card(Max. 128G)
Information video overlay(OSD): support

Your Purchase Includes:
1x EH314 4K Zoom Camera with 3-axis Gimbal
1x Gateway Damping plate
1x Network Cable
Option:
OSD Module for EH314 4K Zoom Camera with 3-axis Gimbal
GCS (Gimbal camera control; screen display; change IP address of the camera)
Wincc (needs OSD module) (Channel setting; camera firmware upgrade)
(As for parameter configuration, please visit https://www.youtube.com/watch?v=J__o42im5K8)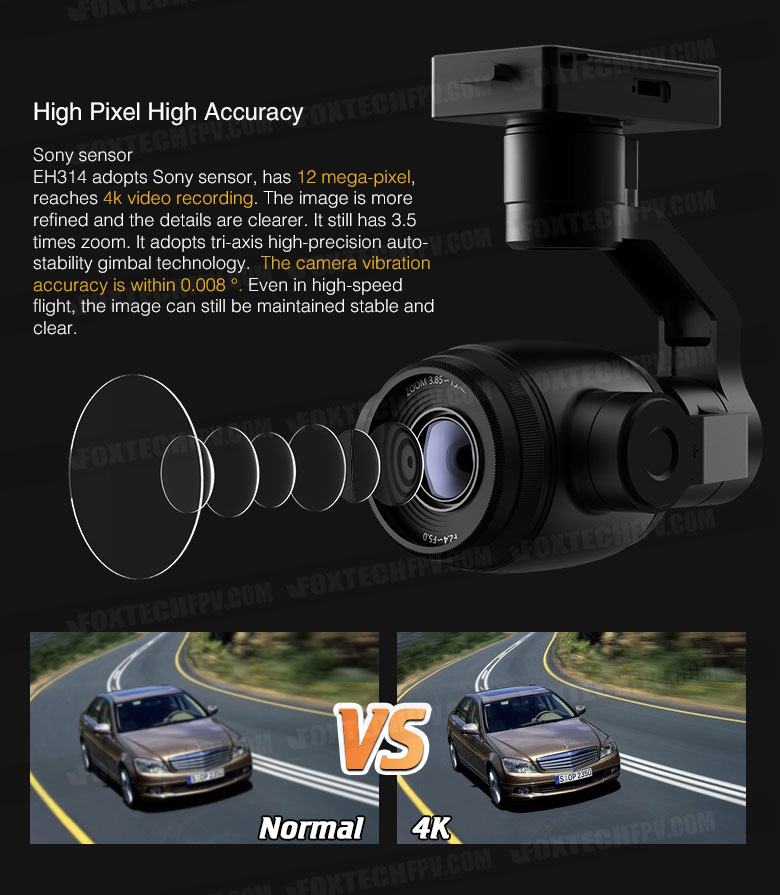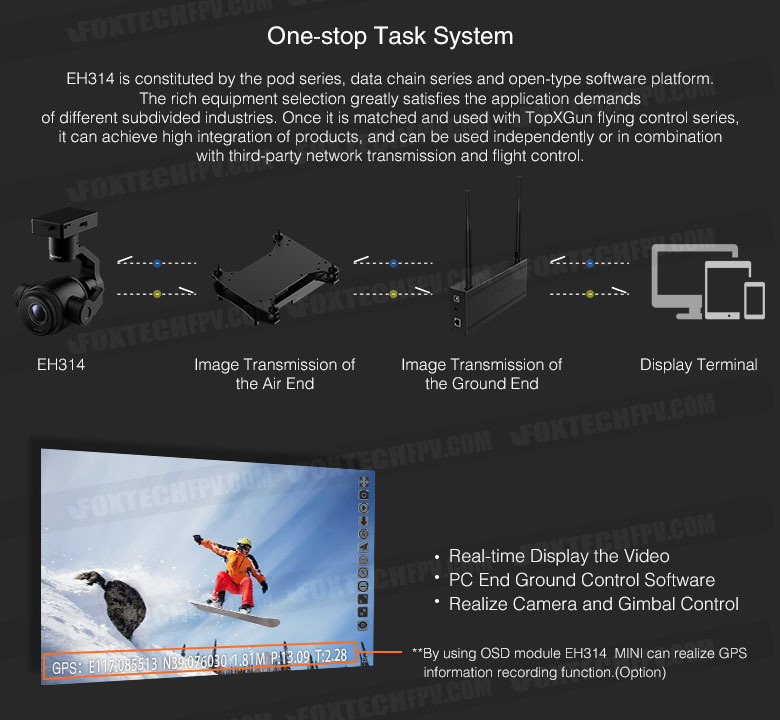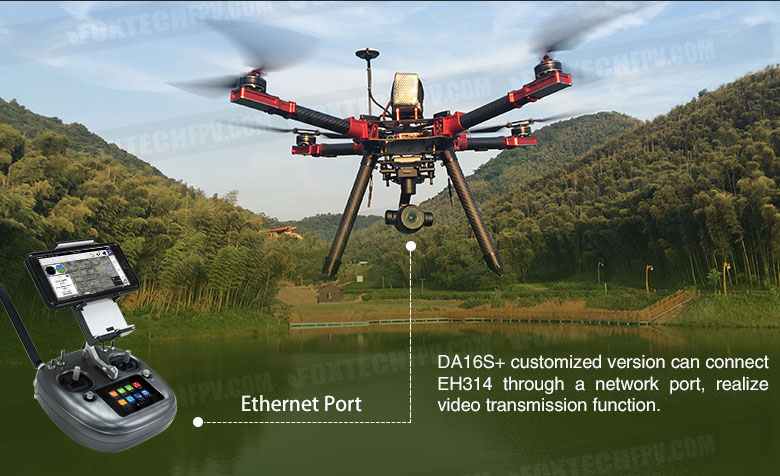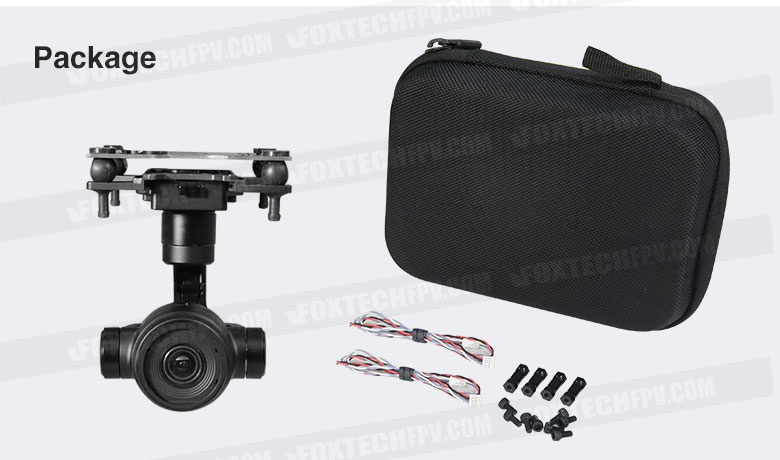 Professional & Just-in-time
Compare Products
You have no items to compare.