Ultra Power UP1200+ 1200W 25A 8 Channels 2-6S Battery UAV Charger
With this product, you earn
325
loyalty points.
UP1200+ is a 1200W 25A 8 Channels 2-6S Battery UAV charger with LCD display.
UP1200+ has a color display screen to clearly show the charging status, the user can well know the charging data, like charging current, battery voltage, battery capacity, battery level, charging time, etc. In addition to connecting 8 batteries, you can also connect a 2S/3S battery to the radio battery connection port.
Note: plug for 110V voltage is American standard, and 220V voltage is European standard plug. If you need other plug types, please contact us by live chat or email us at support1@foxtechfpv.com.
Features:
1.Two working mode: Charge/Storage mode
2. Support charging 8 pcs of 2-6S LiPo/LiHV batteries and built-in charging nanny, 4 channels per side.
3. Each side works independently, the charger can automatically turn to the next battery pack once fully charged.
4. Support to charge/discharge with 8 battery packs simultaneously under storage mode.
5. With independent radio battery connection port, support to charge 2S/3S radio battery.
(Only one radio battery can be charged one time).
6. Memorizing last charging current.
7. Multiple protection function: over-voltage, over-current, reverse polarity, and over-temperature protection.
Specifications:
Input voltage: AC 110v/220V
Charge current: 5A/10A/15A/20A/25A
Charge power: 1200W (600Wx2)
Discharge power: 280W (35Wx8)
Balance current: 1.5A/cell
Battery type: LiPo/LiHV
Support battery types: 2-6 S
Charging mode: balance charging mode / storage mode
Dimensions: 270x190x160 mm
Weight: 4.61KG
Your Purchase Includes:
1 x Ultra Power UP1200+ Charger
1 x Power Cord
8 x Adaptor Board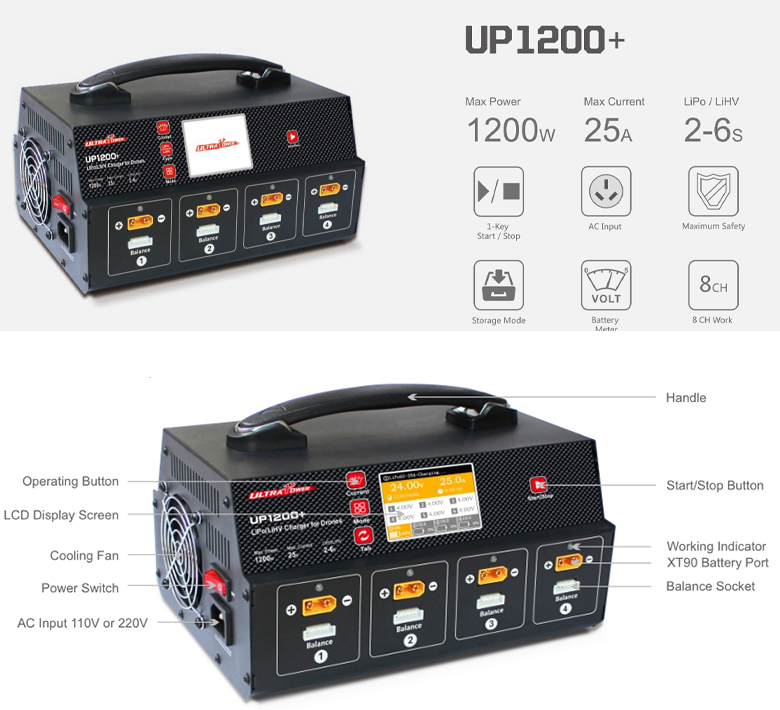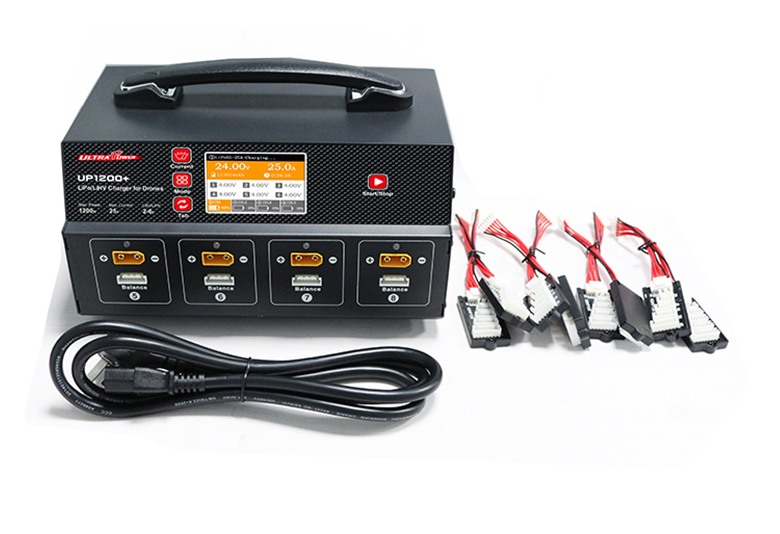 Compare Products
You have no items to compare.